Bureau
Europeans are invited to the World Championship in St. Petersburg
27 November 2017
This past weekend, the team, which represents St. Petersburg as secure and comfort host city of FIFA 2018 World Championship, had been returned in Russian Northern Capital. And the main hero of the «HOST CITY SAINT PETERSBURG» two week trip was mobile information point – an office-trailer of the City Tourist Information Bureau. The bright trailer-traveler was one of the reasons that attracted European public attention and forced people to stop and learn all information granted to them.
The start of European road-show «HOST CITY SAINT PETERSBURG» was given on November 14 by Deputy Prime Minister of Russia Vitaly Mutko, the Governor of St. Petersburg Georgi Poltavchenko, a famous traveler and festival coordinator Harley Days Igor Scherbakov and the Chairman of the Committee for Tourism Development Andrey Mushkarev at the Saint Petersburg Stadium before the friendly match between Russia and Spain.
In the two week euro trip took part representatives of St. Petersburg City Tourist Information Bureau, famous traveler and festival coordinator Harley Days Igor Scherbakov, partial for promotion St. Petersburg destination and interested partners. Team accomplished they travel thanks to car, which was provided by official FIFA sponsor – Hyundai. Hyundai Santa Fe became a mule for the «main character» of the event – tourist information van.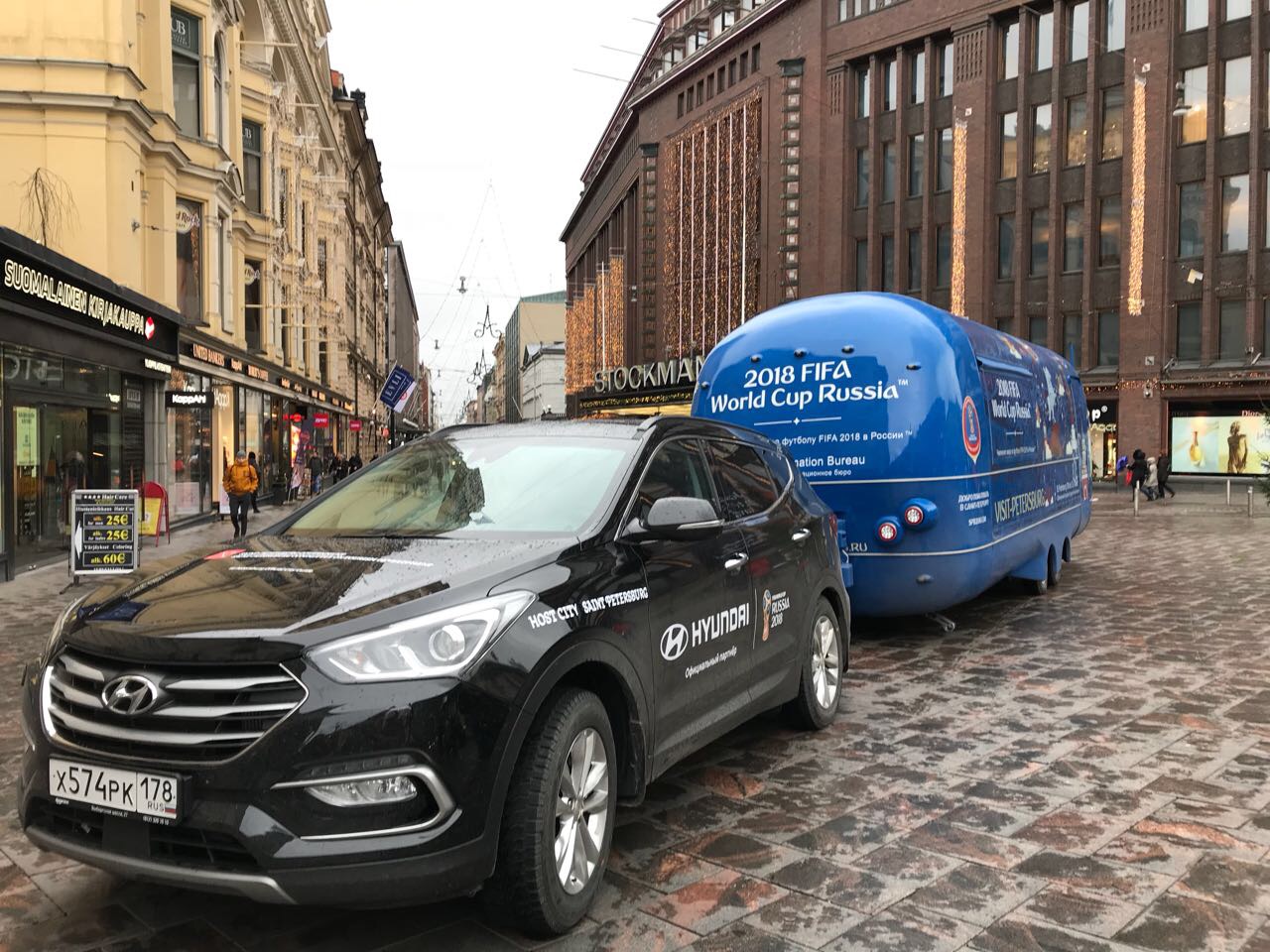 Mobile trailer cause unheard hype and interest on the part of the locals of Old World countries. The road show «HOST CITY SAINT PETERSBURG» has successfully passed such cities of Europe as Finland capital – Helsinki, German port city Travemünde, sister city of St. Petersburg – Hamburg, fabulous city of Bremen, one of biggest European cities – Cologne, European Union capital – Brussels, heart of the Ruhr Valley – Bochum and also road show visited "Queen of the Hansa" – the port town of Lübeck. In 8 European cities delegates from Petersburg presented Northern Venice by giveaways and interactive events both for common citizens and for potential fans of 2018 Football World Championship, planning their visit to Russia and St. Petersburg. By the way, event has not been without presence of celebrities. In Helsinki famous Finnish writer and historian of Russia Arvo Tuominen, who was granted with Order of People Friendship personally by president of Russian Federation Vladimir Putin, has come to meet caravan.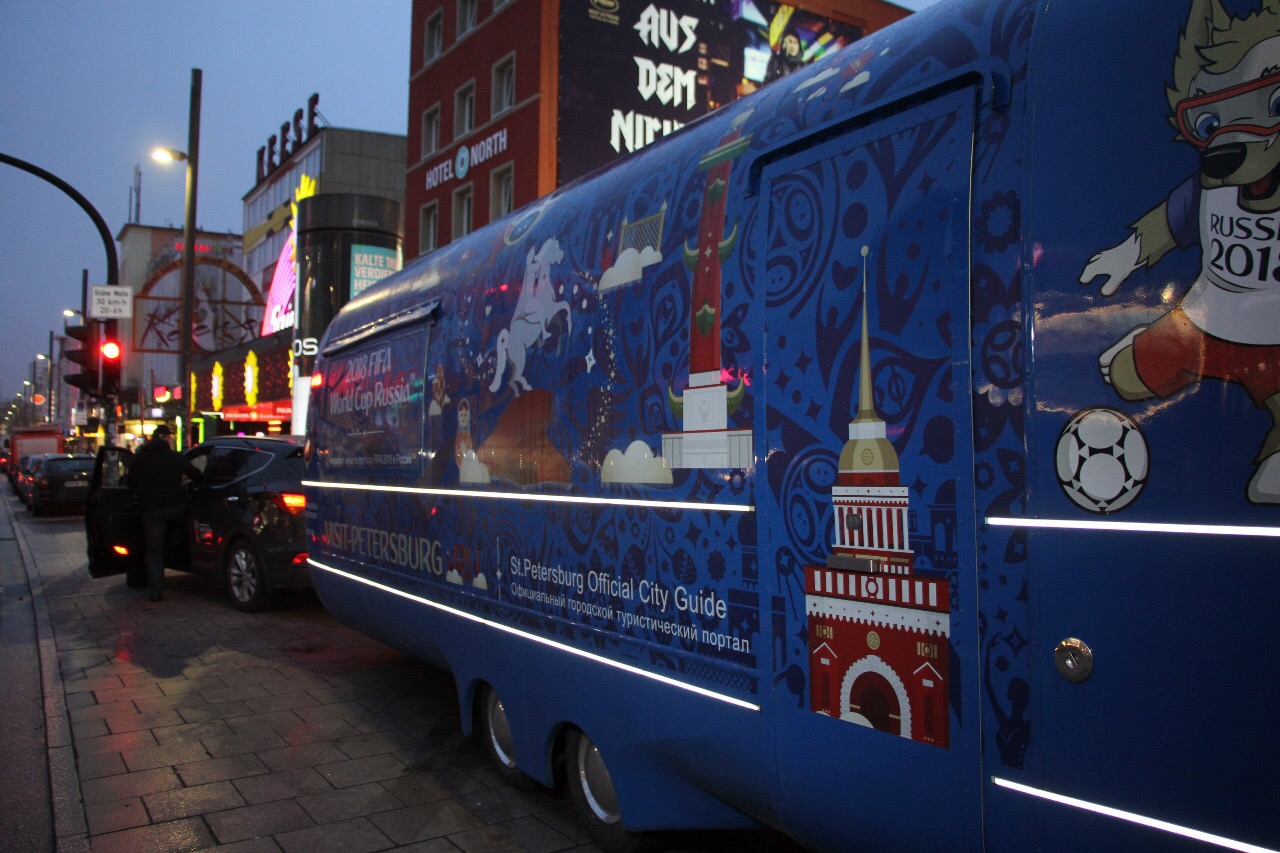 As Evgeny Pankevich, General Director of the City Tourist Information Bureau said, the road show affected cities with ongoing football game series of League of Champions and German championship. Mobile center «was carrying a service» at the stadiums, and his team told to the visitors about Northern Russian Capitals potential, answering any questions of people who were interested in the trip to St. Petersburg Championship.

Trailer with symbols of Football World Championship excited customs officers. Despite total verification of the property imported into those countries, they were friendly to the mission of the citizens of St. Petersburg. Road-trip team communicated with service employees, talk with them about football and present Petersburg from the best side. In its turn, after such fascinating story about city preparation, they promised to come to the 2018 Mundial. Completed trip may be considered as pilot episode of the road-show, telling us about tourist and sport potential of St. Petersburg. They plan to continue the project next year, but with some changings in geography. Besides Finland, German and Belgium, another European countries would be added next year.

You can follow the tourist information office on wheels by using #visitpetersburg and #hostcitypetersburg hashtags.